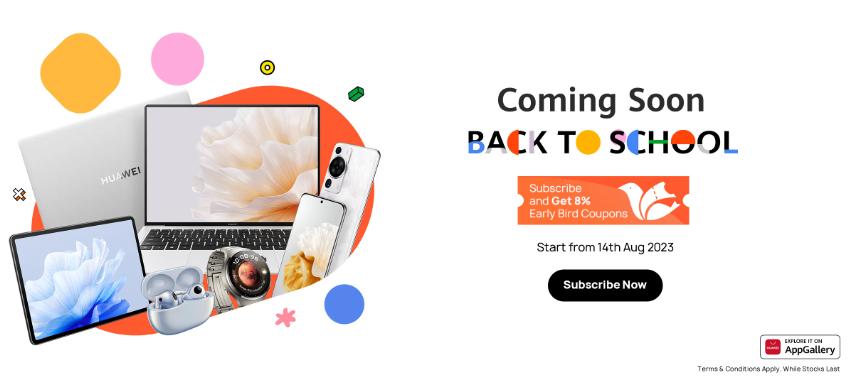 Are you an avid tech enthusiast looking to score fantastic deals on Huawei devices online? Well, you're in for a treat! Huawei, a renowned name in the tech world, is all set to kickstart its back-to-school discount from August 14, 2023. Get ready to embark on a thrilling adventure of hunting for incredible deals on Huawei products right from the comfort of your couch.
With the convenience of online shopping, the possibilities are endless for finding those sought-after discounts on the latest smartphones, tablets, laptops, and accessories. But before diving into virtual bargain hunting, here are some valuable tips to ensure you make the most of this exciting opportunity.
Tips for hunting Huawei discounts online
Here are tips so you can get discounts online:
Early Bird Catches the Worm: Mark Your Calendar
The key to making the most of Huawei's back-to-school sales is to be prepared. Put a big red circle on your calendar for August 14, 2023, and set a reminder. This way, you won't miss the floodgates opening to amazing discounts on Huawei's official online store. By being an early bird, you'll have the advantage of securing the best deals before they sell out.
Create an Account: Get Ahead of the Game
Don't wait until the last minute to create an account on Huawei's online store. Registering in advance will streamline your shopping experience and help you avoid any last-minute hiccups during checkout. And they even offer exclusive early access to registered customers.
Wishlist Wisely: Shortlist Your Favorites
In the vast ocean of discounts, it's easy to get overwhelmed. Take a moment to browse through the available products and add your favorites to your wishlist. Creating a shortlist will help you stay focused and ensure you don't miss out on the desired devices. Remember, good things come to those who prepare.
Compare Prices: The Art of Smart Shopping
Before you click that "buy now" button, take a moment to compare prices across different online retailers. The beauty of online shopping lies in the ability to compare prices effortlessly. This way, you can get the best bang for your buck and potentially discover an even better deal elsewhere.
Don't Forget the Fine Print: Shipping and Return Policies
As you revel in the excitement of bagging a fantastic discount, don't forget to read the fine print. Be aware of delivery timelines and return windows to ensure a smooth and hassle-free shopping experience.
Engage with Huawei's fan group: Stay Informed
Huawei whatsapp fan group is a treasure trove of valuable information and insights. Connect with fellow tech enthusiasts and keep yourself updated on the latest news, product launches, and exclusive offers. This way, you'll stay one step ahead of the curve and never miss an opportunity to seize the best deals.
Conclusion
So, there you have a comprehensive guide to hunting for Huawei device discounts online. Remember, the clock is ticking, and the back to school discount is just around the corner. Armed with these tips, you're all set to embark on a thrilling shopping spree on August 14, 2023. Upgrade your tech arsenal with Huawei's cutting-edge devices without breaking the bank.