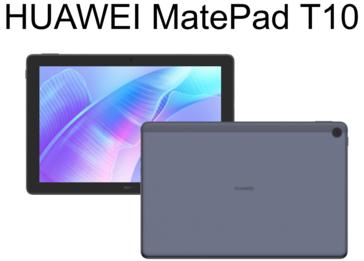 Huawei appears to be expanding its MatePad lineup with the T10 and T10s tablets. (Image source: @rquandt)
  Renders and specs of the Huawei MatePad T10 and Huawei MatePad T10s have been leaked. The two new tablets from the Chinese OEM feature the 14nm Kirin 710A chipset and from 2 GB to 3 GB RAM depending on the model. No prices have been leaked, but the specs suggest the MatePad T10 and T10s will be budget tablets.
  74% Samsung Galaxy A03s smartphone review: Cheap phone, good call qualityNext Page ⟩Huawei MatePad T10 and Huawei MatePad T10s renders and specs have been leaked by Roland Quandt. The alleged new tablets from the Chinese manufacturer are clearly aimed at the budget sector of the tablet market as the components are far from being high-end parts. Both the T10 and T10s are powered by the 8-core Kirin 710A, which is a 14nm variant of 2018's midrange HiSilicon Kirin 710 SoC. No prices or release date information was provided for the new Huawei MatePad tablets, although someone commented fairly on Quandt's post that US$130 should be the limit considering the specifications.
  The Huawei MatePad T10 and MatePad T10s differ in a number of ways, starting with the display. The presumably cheaper MatePad T10 has a 9.7-inch display with a 1280x800 resolution while the larger T10s has a 10.1-inch screen and 1920x1200 resolution. The two tablets also differ in regard to RAM and storage configurations. The MatePad T10 is listed as having a 2 GB/16 GB variant and a 2 GB/32 GB choice, whereas the MatePad T10s offers a little bit more with either 2 GB/32 GB or 3 GB/64 GB.
  Apart from those differences, both the MatePad T10 and MatePad T10s will operate on Android 10 (EMUI 10.1) and deliver typically mediocre camera equipment for budget tablets: 5 MP main camera and 2 MP front-facing sensor. There's also a 5,100-mAh battery onboard and the MatePads can connect to the Internet at up to Wi-Fi 5 speeds (802.11ac). There's even a 3.5 mm audio jack to be found on the Huawei tablets for the many audiophiles out there who still care about that specific port.